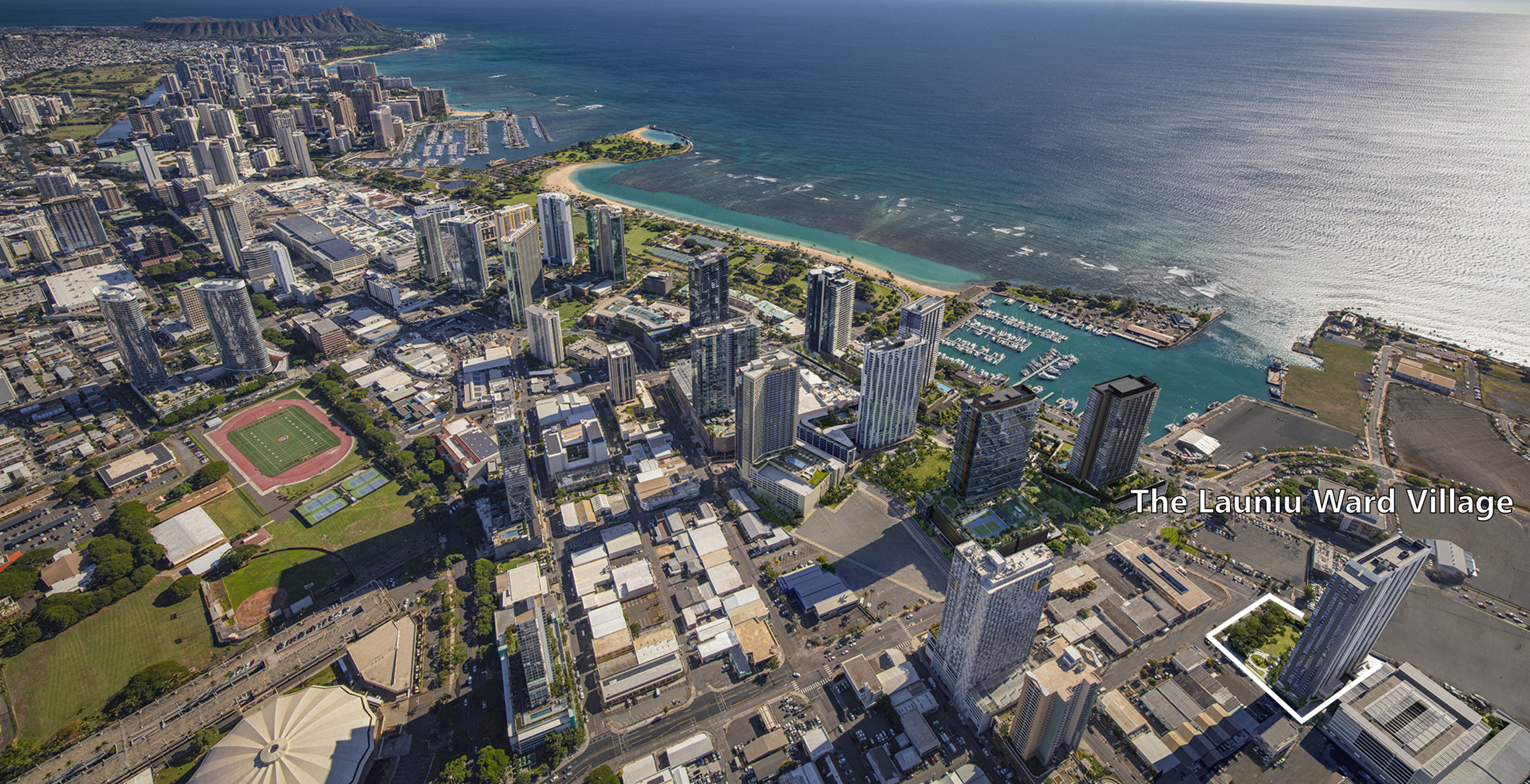 The Launiu Ward Village
HAWAII ・ハワイ | OAHU SINGLE FAMILY HOMES・オアフ中古戸建 | KW TOKYO | JAPAN PROPERTIES・日本物件
ワードビレッジ、最新レジデンシャルコンドミニアムを発表
全米屈指ハワード・ヒューズの最新プロジェクト『The Launiu Ward Village』のご案内です。The Launiu Ward Villageは、ホノルルにある60エーカーのマスタープランコミュニティ、ワードビレッジに計画されている高級マンションプロジェクトで、完成すればワードビレッジで11番目のプロジェクトとなる予定です。プロジェクトの場所は、アラモアナ大通りとワードアベニューの角、928 Ala Moana blvdとなる予定です。スタジオ、1、2、3ベッドルームのレジデンスを備えたサウスショアのエレガントな暮らしにインスピレーションを得た住宅コレクションで、Lēʻahi(ダイヤモンドヘッド)の景色、高度なアメニティ、洗練されたインテリアが特徴となります。Keller Williams Tokyoでは特別先行販売にお客様をご案内することが出来ますので、ご興味おありの方はご登録下さい。
Ward Village Introduces its Newest Residential Condominium
"The Launiu progresses our vision for Ward Village as a vibrant, connected neighborhood that pulls together the best parts of Honolulu," shares Doug Johnstone, President, Hawaiʻi at The Howard Hughes Corporation. "New homes will be complemented by the surrounding walkable, mixed-use environment with its expanded outdoor plazas, green space and community benefits."
The Launiu Ward Village is design by architect Arquitectonica, interior designer ODADA, and VITA Planning & Landscape Architecture
Six mixed-use residential buildings in Ward Village have been completed — Waiea, Anaha, Aeo, Ke Kilohana, Aalii and, most recently, Koula. Victoria Place, Ulana and The Park Ward Village are new residential buildings in development. Plans for Kalae have been approved.
In September 2022, Koula, the neighborhood's sixth residential tower, opened to residents, while ground broke on The Park Ward Village in October 2022 and Ulana Ward Village in December 2022.
ワードビレッジのライフスタイルは、都会の贅沢さとハワイの自然を融合させたもので、太平洋と美しいアラモアナビーチパークがすぐ近くにあり、コミュニティと自然が融合されています。ホノルルの商業施設、レストラン、アドベンチャーにダイレクトにアクセスすることができます。
Ward Village captures the new sprit of urban-island lifestyle that brings both urban luxury combined with Hawaiian nature through the Pacific Ocean and beautiful Ala Moana beach park steps away connecting nature to community. Ward Village offers direct access to the best shopping, dining and adventure in Honolulu.
The Launiu Ward Villageの詳細をご希望の方は、個別にプライベート説明会を行いますので以下からお問合せ下さい。
To learn about these exciting luxury tower residences please contact us to arrange private information sessions below.
ワードビレッジの他のプロジェクトはこちら
Discover more about the collection of Ward Village residences by visiting our introductions below.
_____
_____
The Launiu Ward Villageは、未完成マンション計画であり、その開発コンセプトは継続的に進んおり、予告なく変更されることがあります。すべての数字 情報、価格等は概算であり、いつでも変更される可能性があります。描かれているすべてのCGやその他の情報は例示であり、購入者がプロジェクトを視覚化するのに役立つように提供され、正確に描かれていない可能性があり、いつでも変更されることがあります。
The Launiu Ward Village is a proposed condominium project and the development concepts therefor continue to evolve and are subject to change without notice. All figures, facts, information, and prices are approximate and may change at any time. All renderings and other information depicted are illustrative only and are provided to assist the purchaser in visualizing the Project, and may not be accurately depicted, and are subject to change at any time.