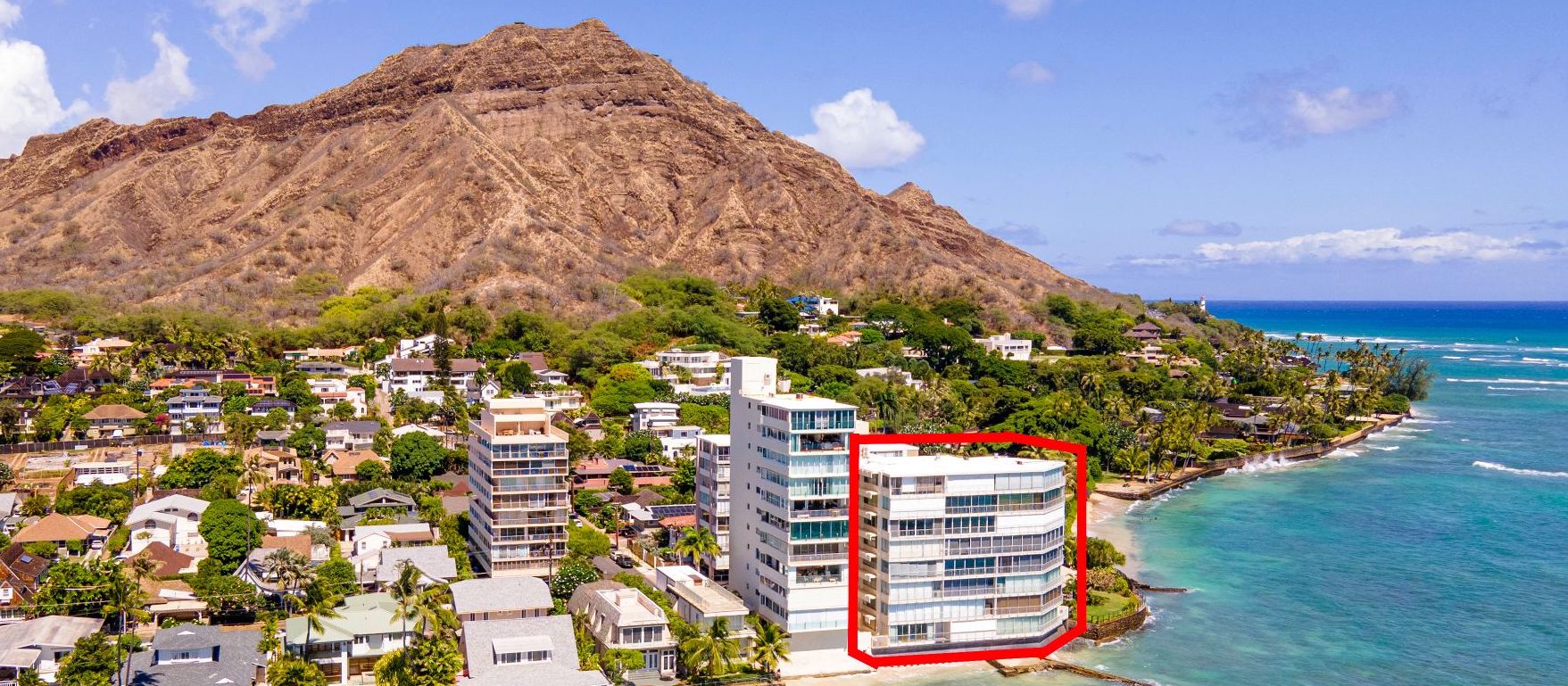 GOLD COAST・KAINALU|カイナル
HAWAII ・ハワイ | OAHU SINGLE FAMILY HOMES・オアフ中古戸建 | KW TOKYO | JAPAN PROPERTIES・日本物件
English follows Japanese
2801 Coconut Ave, ダイヤモンドヘッド
1958年完成済、8階建て総戸数61のコンドミニアム
規模的にも高さ的にもこじんまりとした印象のカイナルコンドミニアムは、憧れのゴールドコーストの海岸線の一番奥、というスペシャルなロケーションが魅力です。ワイキキの喧騒や人混みから最も離れた、ゴールドコースト中でもひときわ静かな落ち着きを感じられる場所です。
ゴールドコーストにある他のコンドミニアムと比べると、ワイキキまでは若干距離がありますが、美しい景色を見ながらゆっくり歩いて行くと、10分から15分ほどでレストランやショップにたどり着きます。カイマナビーチやクイーンズビーチなどのローカルビーチへのアクセスの良さも見逃せません。
スケールは小さいながら目の前にもビーチがあり、敷地内からレジデンス専用の階段を降りるとそこは白い砂浜が広がるプライベートビーチ。いつでも気軽に海に泳ぎ出ることができます。南側のお部屋は見渡す限り鮮やかなブルーに輝く海に面しており、海に突き出すように造られたラナイは、まるで海の真上にあるリビングスペースのような感覚でお使いいただけます。
ゴールドコーストの中でも特にプライベート感が高い、価値ある人気物件です。
Example of in-building available units for sale / 販売可能な物件の例
| wdt_ID | Beds Total | Baths Full | Baths Half | Price | SQFT Living Area |
| --- | --- | --- | --- | --- | --- |
*1 SQFT = 0.092903 SQM
**0 Bed = スタジオ部屋・Studio Apt.
***Price = US$
2801 Coconut Ave, Diamond Head
Built in 1958, 8 Floors with 61 Units
Kainalu Apartments is a cooperative condo complex in Hawaii's desirable direct oceanfront Gold Coast. The Kainalu condo isn't the largest or tallest of the Gold Coast, but it does have something very special about it. It's the last condo in that line of coveted buildings along the Pacific Ocean. When you live here you're in the quiet corner of the community, farthest from the noise and traffic of Waikiki. That doesn't mean you're too far away to enjoy the options there, though.
The neighborhood of Diamond Head is well known for it's surf spots and is located across from the beautiful and expansive 500+ acre Kapiolani Park complete with jogging paths and exercise stations.
Waikiki restaurants and entertainment spots are within a 10 to 15 minute stroll by beautiful scenery all along the way. Don't forget the beaches, like Kaimana & Queens that are part of your neighborhood, too.
Just below Kainalu is a smaller beach that you'll love visiting whenever you get the urge. As a resident you have a private staircase from the grounds, the bottom step right on the sand. It's just about the closest you'll come to a private beach on the Gold Coast.
_______
Examples of available in-building units for the condominium presented are provided courtesy of Erik Taniguchi of Keller Williams Honolulu, based on information from Multiple Listing Services of HiCentral MLS,Ltd. Information deemed reliable but not guaranteed. Copyright 2020 by HI Central MLS,Ltd.
_______