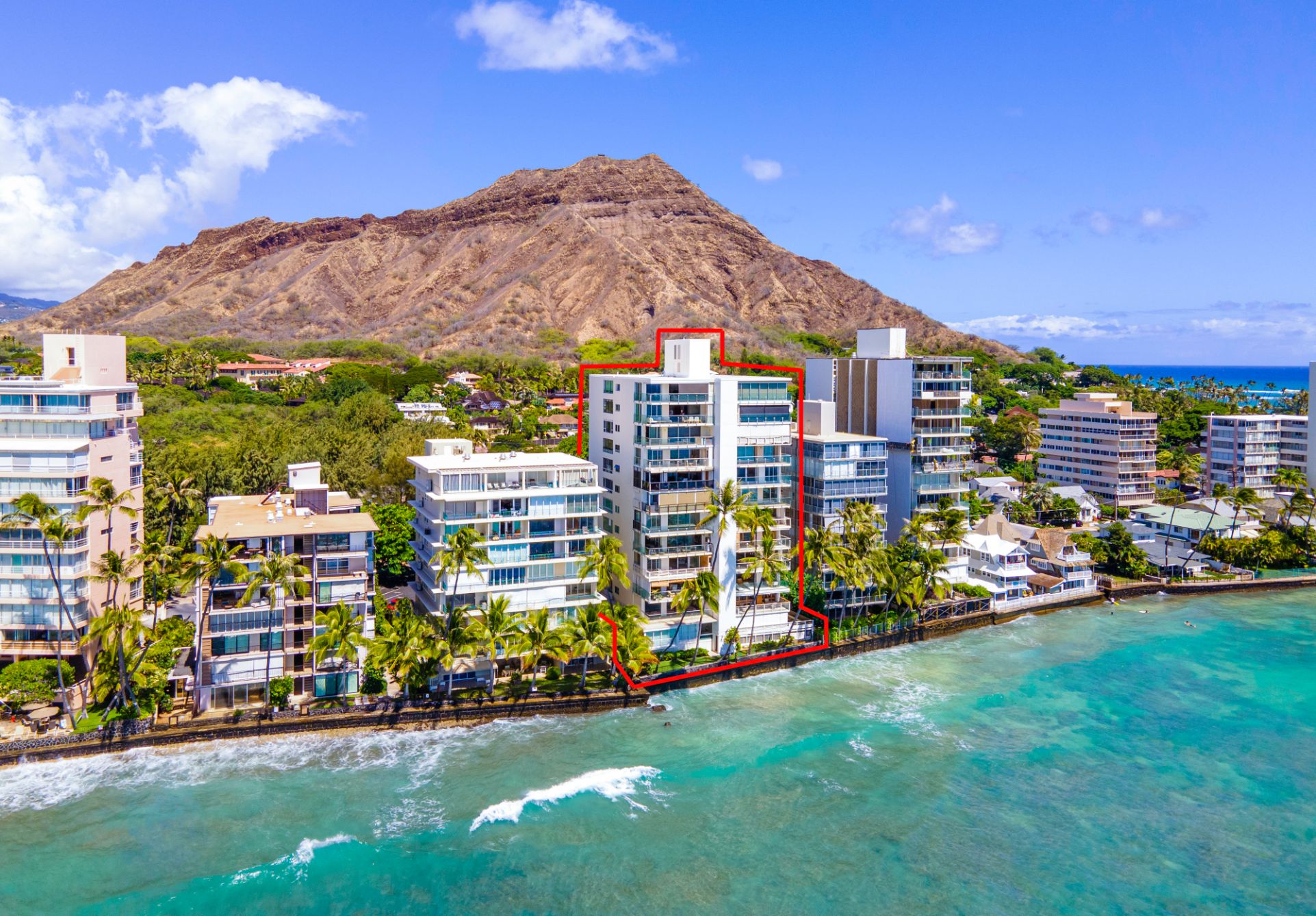 GOLD COAST・3003 KALAKAUA|3003 カラカウア
HAWAII ・ハワイ | OAHU SINGLE FAMILY HOMES・オアフ中古戸建 | KW TOKYO | JAPAN PROPERTIES・日本物件
English follows Japanese
3003 Kalakaua Ave, Diamond Head
1962年完成済、12階建て総戸数25のコンドミニアム
3003カラカウアコンドミニアムは、憧れのゴールドコーストの中でも特に人気の物件です。目の前の海には島内でも有数のサーフィンスポット、そして背後には雄大なカピオラニ公園が広がります。
各フロア2部屋のみの造りで、プライバシーと広さが約束されており、各お部屋に3つのベッドルームと2つのバスルームがあります。180平米を超える広々としたスペースにて、美しい海と夕日の景色をお楽しみいただけます。また、広いバルコニーから見る景色は格別で、他のコンドミニアムとは一線を画しています。1962年に建てられた3003カラカウアは、建築基準法が変わる前に海岸線ぎりぎりに立てられた、数少ない建物の1つで、本当の意味でのオン・ザ・ビーチにレプリカ的なコンドミニアムを建てることは不可能です。他にはない海辺のロケーションと築年数の2つの要素から、節税効果の高い投資結果も期待できます。ゴールドコーストのリラックスしたライフスタイルを感じていただける、真の逸品です。
Example of in-building available units for sale / 販売可能な物件の例
| wdt_ID | Beds Total | Baths Full | Baths Half | Price | SQFT Living Area |
| --- | --- | --- | --- | --- | --- |
*1 SQFT = 0.092903 SQM
**0 Bed = スタジオ部屋・Studio Apt.
***Price = US$
3003 Kalakaua Ave, Diamond Head
Built in 1962, 12 Floors with 24 Units
3003 Kalakaua condo complex is Hawaii's most desirable property in direct oceanfront Gold Coast, known for it's surf spots and located across from the beautiful and large 500+ acre Kapiolani Park.
Condominiums here retain value due to its seaside location and given the vintage, may provide tax efficient investment. Given total limited number of units with only 2 units per floor, the property provides privacy and more space. All of the condos feature 3BRs and 2BAs, with over 2,000 sq ft of floorspace with beautiful ocean views and sunsets. 3003 Kalakaua is one of the largest footprint units on the Gold Coast.
The spacious lanais faces right out onto the ocean, with views few other buildings have. Built in 1962 , 3003 Kalakaua is one of the few structures put up before building codes required construction be set further back from the water. This property is not replicable and truly a gem in the oceanfront Gold Coast 's relaxed open lifestyle.
_______
Examples of available in-building units for the condominium presented are provided courtesy of Erik Taniguchi of Keller Williams Honolulu, based on information from Multiple Listing Services of HiCentral MLS,Ltd. Information deemed reliable but not guaranteed. Copyright 2020 by HI Central MLS,Ltd.
_______