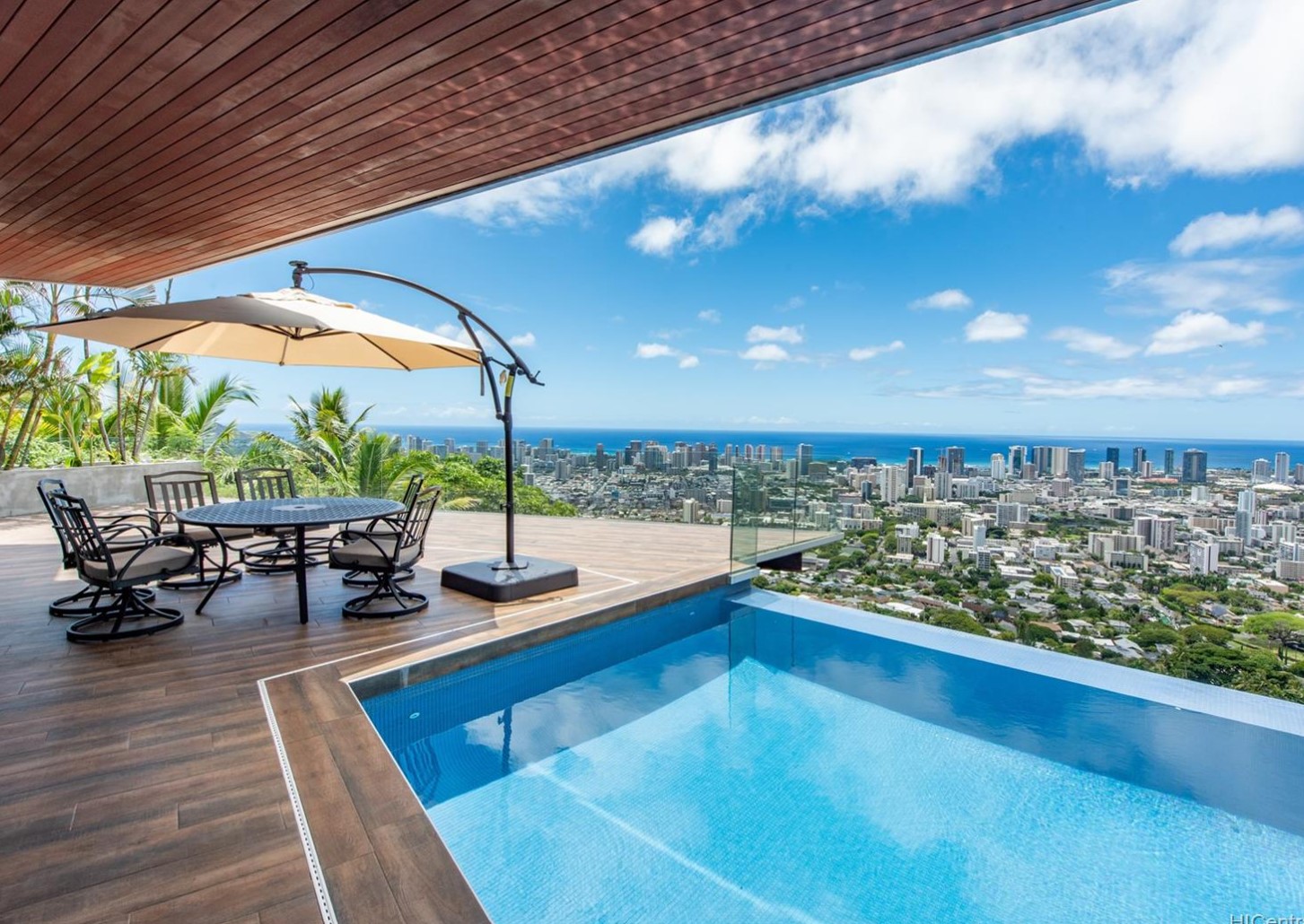 2809 Round Top Drive, Honolulu
HAWAII ・ハワイ | 物件管理・PROPERTY MANAGEMENT | KW TOKYO | JAPAN PROPERTIES・日本売買物件
English follows Japanese
2809ラウンドトップ、通称「スカイリッジ」は、タンタラスの最高傑作と言われています。この住宅は、その大胆な外観で、中に入った人に壮大な感覚を与えることで尊敬を集めています。タンタラスの高台に位置し、アクセスが容易でありながら、ダイヤモンドヘッドからリーワード側までのパノラマビューを実現した唯一無二の住まいです。床から天井まであるスライディングドア、水平線に溶け込むインフィニティプールなど、屋内外での生活を完璧に実現します。4人乗りのエレベーターで4階すべてに簡単にアクセスでき、2階のスタジオには専用のラナイがあり、ゲストはプライバシーを保ちながら自由に出入りできます。スカイブリッジには、車用のターンテーブル、シアタールーム、レクリエーションルーム、滝、サウナ、スチームルーム、2つのバスタブ、そして世界でも有数の眺望を誇るジャグジーなど、夢のような設備が整っています。コンクリートと鉄の構造で建てられ、家全体に電力を供給するのに十分な太陽光発電パネルがあります。もう帰りたくなくなるかもしれませんね。
PRICE | 価格
US$7,980,000
It's not just a home, it's an EXPERIENCE.. 2809 Round Top, or "Skyridge", has been considered the Magnum Opus of Tantalus. This home is revered for its bold looks that create a sense of grandeur for those that step inside. This one-of-a-kind home is situated perfectly in the heights of Tantalus, allowing for easy access, yet still achieving panoramic views from Diamond Head to the Leeward side. Achieving that perfect indoor/outdoor living with floor to ceiling sliding doors and a heated infinity edge pool that seamlessly blends into the horizon. Experience easy access to all four levels via a 4-person elevator and a readily accessible upstairs studio with its own lanai allowing guests to come and go as they please while still feeling a sense of privacy. Skyridge boasts more features than you could dream of.. including a turntable for your vehicles, theater room, recreation room, interior waterfall feature, sauna, steam room, two soaking tubs and even a Jacuzzi with one of the best views in the world. Built with a concrete and steel structure and almost enough photovoltaic panels to power the whole home… You may never want to leave!
Listing Agent : Devin Tryan (R)
Listing Brokerage : Pineapple Homes with eXp Realty
地図を見るにはこちらへ・Click here for map
______
______
______
______
Active listings introduced on this site are listed by REALTORS@ and introduced via data provided courtesy of Erik Taniguchi of Keller Williams Honolulu, based on information from Multiple Listing Services of HiCentral MLS,Ltd. Information deemed reliable but not guaranteed. Copyright 2022 by HI Central MLS,Ltd.